About Your Visit
Our mission is to provide the finest orthopaedic care, from physicians who sincerely care about those they serve. We are dedicated to meeting your orthopaedic needs with skill and compassion. We want to help you prepare for your visit. Please read below to learn how to get ready for your appointment and also what you can expect during your visit.
Before You Arrive
After your appointment is scheduled there are a couple of things you can do to get ready:
Create your patient portal account
Complete health forms via the patient portal
Write down any questions that you want to ask during your exam
Some patients will be able to pre-register online for their appointment through our digital registration tool.
What To Bring
In order for us to provide the best care for you, it is important that you bring the following items to your visit:
Photo ID
Insurance information and card
A referral if applicable (if you do not know if you need a referral, check with your primary care physician or insurance company)
A list of your current medications
All previous films –X-ray, MRI, CT, bone scans
Diagnostic test results
Information about what treatments and medications have been tried in the past
Medical records from prior visits that you think may be helpful
Contact information (Name, address, and phone number) of your referring physician and primary care physician (if different)
PIP insurance information (required only if you have been in an auto accident)
Proof of Authorization (required for a visit related to a worker's compensation injury)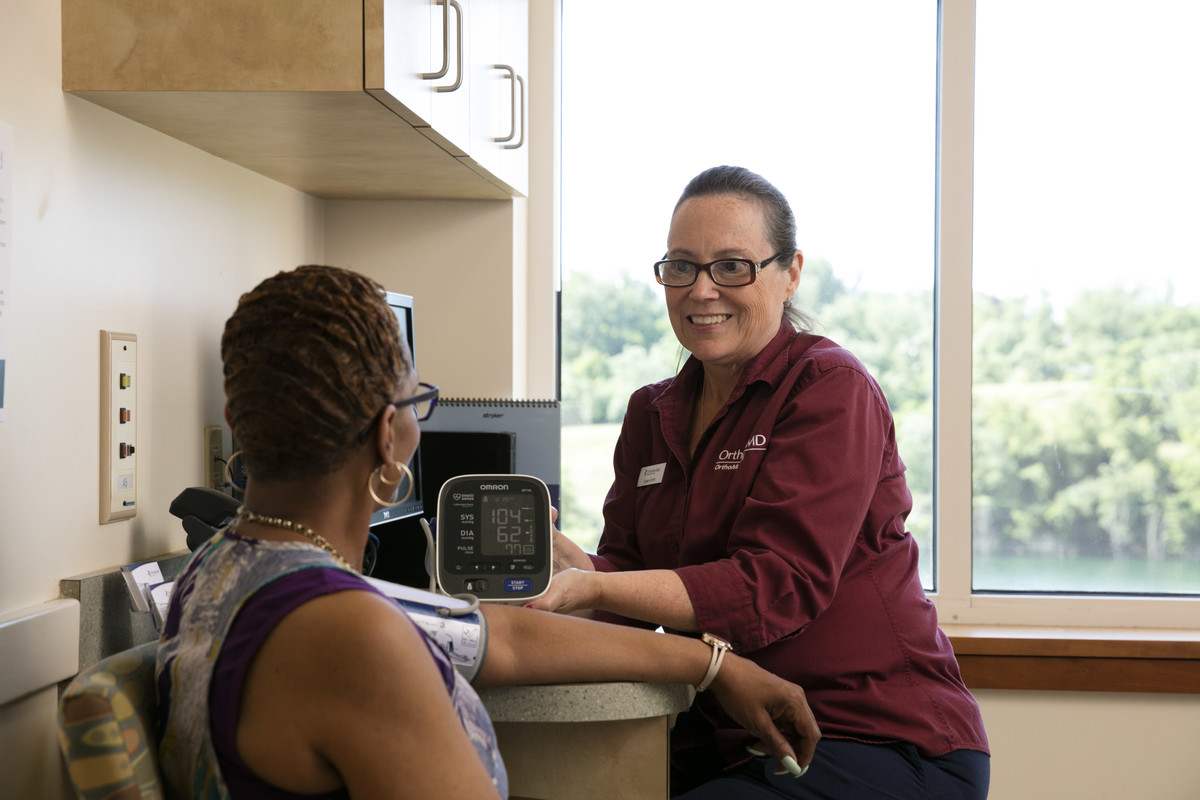 Same Day Appointments
We understand that life can't wait. At OrthoMaryland, we strive to schedule appointments within 24 hours of speaking with you; even on the same day. Please call us at 410-377-8900 during regular business hours to schedule a same day appointment. Please note, availability of same day appointments varies by day, location, and physician.
Moving Through Your Visit
Your appointment begins when you enter our reception area. There are steps involved in your appointment and based on what has brought you to the office you may encounter a variety of care providers before the end of your visit. Please arrive 15 minutes prior to your scheduled appointment time to complete the registration process.
Check In
OrthoMaryland is excited to offer a digital method to capture your health history, allowing you to answer questions about your current orthopaedic problem in privacy. Instead of traditional paper forms and clipboards, we have electronic check-in tablets that can be taken to your seat and completed prior to your visit with the physician or therapist. This information is then entered into your private health record for the physician. Maintaining a current and accurate health record is very important to us and we are proud to offer this method of secure check-in visit registration.
In the Treatment Area
Generally, you will be brought into the treatment area by a Medical Assistant (MA) and your exam will begin. Your MA will take your vitals and gather summary information about your injury.
Depending on the nature of your injury, your doctor or PA-C may want x-rays done. This will occur in our office during your visit. An X-ray technician will escort you to our x-ray suite, conduct the tests and escort you back to your exam room. After x-rays are taken, they will be reviewed by your provider, who will then meet with you.
In some instances you will see a PA-C before you see the doctor. Be sure to write down any questions you have about your injury and bring them with you. Should your injury require durable medical equipment or DME (boot, crutches, brace, etc.) or casting, a member of our team will meet with you to complete this part of the process. Casting and DME dispensation occur in our office.
Check Out
Once your exam has ended, you will go back to the reception area for check out by a front office associate. At that time, you can schedule a follow-up or physical therapy appointment if ordered by your provider. In some cases, you may meet with a doctor for your initial visit, but follow-up with their PA-C. Paperwork related to your exam can either be given to you in print form, or will be available through the patient portal.
Your Feedback is Important to Us!
We want to hear from you. You may receive a survey after your visit. Please fill it out so we can work to continuously improve our patient experience. Thank You!