March 26, 2020
How Does Diabetes Affect the Body?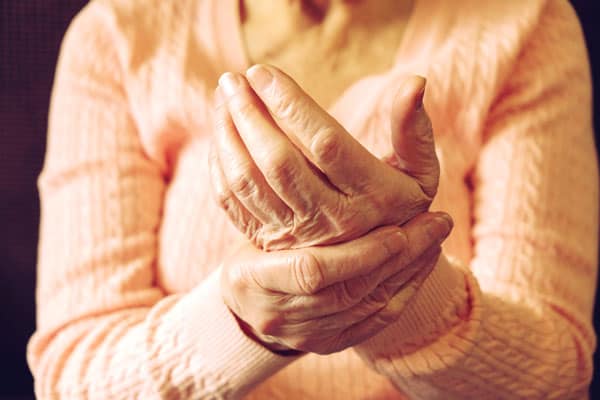 When many people think of diabetes, they often think of needle pricks and restricted diets. However, there's more to diabetes than managing blood sugar levels. Diabetics also contend with an increased risk for joint and bone issues.
How Does Diabetes Affect the Musculoskeletal System?
Diabetes can be a painful and debilitating disease that can lead to aching joints and a myriad of other musculoskeletal conditions. While these conditions are sometimes caused by nerve damage (diabetic neuropathy), arterial disease, or obesity—in many cases the exact cause is unknown.
Here are just a few of the conditions commonly associated with diabetes.
Charcot Joint (Neuropathic Arthropathy)
Charcot joint, also known as neuropathic arthropathy, is a condition involving joint deterioration caused by nerve damage.
Most commonly affecting the feet, Charcot joint is typically initiated by trauma to the area and can lead to dislocations, fractures, and—potentially—permanent deformity. Early detection is crucial in slowing the progression of the disease and preventing irreparable damage.
Symptoms of Charcot joint include:
Numbness or loss of sensation
Tingling
Swelling
Redness or warmth in the affected area
Instability
Joint deformity
Diabetic Stiff Hand Syndrome (Diabetic Cheiroarthropathy)
Diabetic "stiff" hand syndrome, also known as diabetic cheiroarthropathy, is a condition involving limited mobility of the hands and finger joints.
Most common among patients with a long history of diabetes, cheiroarthropathy can have a detrimental impact on a patient's quality of life. Fortunately, with early treatment, the condition can often be managed. Along with maintaining blood sugar levels, occupational therapy can help maintain mobility and prevent further damage.
Symptoms of stiff hand syndrome include:
Tight, thick, waxy skin on the hand
Limited finger movement
Loss of grip
Weakened strength in hand and fingers
Osteoporosis
Type 1 diabetes is commonly connected with low bone density, particularly among patients with a long history of the disease and poor blood sugar control. This may increase the risk of developing osteoporosis—a disorder that causes bones to weaken leaving them susceptible to fractures.
According to the National Institute of Health, more than 53 million people in the U.S. either already have osteoporosis or are at high risk due to low bone mass. Unfortunately, the condition often goes unrecognized until a fracture occurs. Through early screening processes, osteoporosis can often be prevented. Learn the risk factors and talk to your doctor about any concerns.
Symptoms of osteoporosis include:
Loss of height
Stooped posture
Bone fractures
Osteoarthritis
Osteoarthritis is a condition characterized by joint damage and the breakdown of joint cartilage. People with type 2 diabetes have a higher risk of developing osteoarthritis—likely due to connected risk factors, such as obesity, rather than the condition itself.
While osteoarthritis is irreversible, maintaining a healthy weight can often be helpful in managing symptoms. If symptoms persist, physical therapy may be recommended to strengthen muscle, increase mobility, and reduce pain. An occupational therapist can also help you learn new ways to do daily tasks without putting unnecessary stress on the joint.
Surgical intervention, such as joint replacement, may be recommended when damage is severe and conservative treatments are no longer helpful.
Symptoms of osteoarthritis include:
Joint pain (usually worse after activity)
Swelling
Stiffness
Tenderness
Decreased function
Clicking or grating sensation
DISH (Diffuse Idiopathic Skeletal Hyperostosis)
Diffuse idiopathic skeletal hyperostosis (DISH), also known as Forestier disease, is characterized by the hardening of tendons and ligaments, most commonly in the spine. DISH is most commonly associated with type 2 diabetes, particularly in obese patients.
While there is no cure for DISH, there are treatment options available to help relieve symptoms and slow the progression of the disease. In more extreme cases, surgery might be necessary to remove bone growth.
Symptoms of DISH include:
Pain in the neck or upper back
Stiffness (often worse in the morning)
Decreased range of motion
Tingling or numbness in the legs
Dupuytren's Contracture
Dupuytren's contracture is a condition involving thickening of the connective tissue (fascia) in the palms and fingers. Over time, the tissue tightens pulling the fingers inward toward the palm. This can occur in one or more fingers and can make simple daily tasks extremely difficult. The exact cause of Dupuytren's disease is unknown, however, studies have shown diabetes to be a significant risk factor.
Dupuytren's contracture typically progresses slowly with mild symptoms. However, as the condition worsens, it can sometimes interfere with the function of the hand. In these cases, surgery may be needed to reduce the contracture and improve mobility. As the severity of damage increases, full correction becomes less likely.
Symptoms of Dupuytren's contracture include:
Lumps (nodules) under the skin of the palm
Tough bands of tissue under the skin
Curling of the fingers
Loss of gripping ability
Loss of strength in hand and fingers
Frozen Shoulder (Adhesive Capsulitis)
Frozen Shoulder is a condition that causes pain and limited mobility in the shoulder. As tightening within the joint increases, range of motion worsens until it becomes extremely difficult to move the shoulder. Frozen shoulder occurs more frequently in people with diabetes, although the reason for this is unknown. Additionally, symptoms of frozen shoulder appear to be more severe among diabetic patients.
Frozen shoulder typically resolves on its own, although it may take up to 3 years. During this time, physical therapy can be helpful in managing pain and restoring strength and motion.
Symptoms of frozen shoulder include:
Dull, aching pain in the outer shoulder or upper arm (early stages)
Reduced range of motion
Stiffness
How Can I Manage Diabetic Joint Pain?
The pain that comes with diabetes and these related conditions can have a severe impact on your overall health and well-being. By properly managing your diabetes, you can also manage the symptoms that can come with it.
Here are a few tips to help you get started!
Control Glucose Levels
Medications are often used to help manage joint pain; however, it is important to pay attention to your glucose levels. Not only can high glucose levels cause damage to the tendons and ligaments within the joints, it can also stick to the joint surfaces and hinder movement.
Stay Active
Physical activity plays an essential role in managing both diabetes and the health of your joints. Create a fitness plan alternating between stretching, resistance training, and aerobics. This will help you strengthen and relax your muscles while improving flexibility and movement. Low impact exercises, such as swimming or cycling, can be extremely helpful in providing relief from joint pain. *Not all exercises are safe for everyone. Talk to your physical therapist for help creating a plan that is right for your body.
Get Enough Rest
Be sure to listen to your body and allow time for rest and healing. Icing joints after physical activity and applying heat during your rest periods can help to ease pain and promote healing.
Along with providing the energy to get the exercise you need, your sleep habits also play an important role in managing blood sugar and insulin resistance. Sleep deprivation can lead to low energy levels, overeating, and potential insulin deficiencies. However, too much sleep can also have a negative impact. So how much sleep is best? It depends. Try monitoring your sleep, eating habits, and energy levels to find a schedule that works best for you.
Maintain a Healthy Weight
Even small amounts of weight loss can make a difference in your health. By losing just 10-15 lbs, you can lower your blood sugar, reduce stress on your joints, and improve your energy levels. *Be sure to talk to your doctor before starting a new diet or weight loss program.
When managed properly, there is no reason diabetic joint pain should keep you from living a happy, healthy life. Contact us today to learn how we can help!