June 27, 2019
The Risks that Come with Trampolines…And How to Avoid Them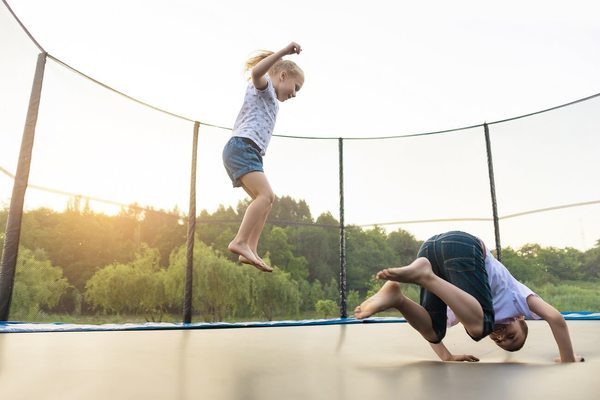 The feeling of soaring through the air is one enjoyed by many. Trampolines can be a thrilling way to get some exercise, but they can also be dangerous if safety measures are not properly followed.
Parents who worry about trampoline safety are right to do so. Trampoline injuries can result in sprains and fractures as well as more serious injuries, such as head and neck trauma. Most injuries that result in an emergency room visit occur by falling off the trampoline, falling on the trampoline springs or frame, jumpers colliding, and performing stunts. Because of this, the American Academy of Pediatrics strongly discourages the use of home trampolines and even cites issues with trampoline parks.
Trampoline Safety Rules
If you choose to allow your child to use a trampoline, make sure to follow these safety rules:
No more than one person should use the trampoline at one time to avoid collision.


Use pads and safety nets.

Make sure a properly designed trampoline net surrounds the perimeter of the trampoline, and that pads are placed on springs and other landing surfaces.

An adult should be present at all times.

Adults can also position themselves around the perimeter of the trampoline to act as spotters.

Children under the age of 6 should not be allowed to use the trampoline.

Ladders and steps to the trampoline should be removed after trampoline use to prevent children from using the trampoline unsupervised.

Do not allow dangerous stunts like flips or somersaults without the supervision of an instructor.
Additional Safety Tips to Consider
Place home trampolines at ground level, as a higher fall poses a greater risk of injury.
Make sure your trampoline is placed away from trees and other potentially dangerous hazards.
Keep a clear safe fall zone at least 8 feet around the trampoline.
Do not place your trampoline on concrete or any other hard surfaces without a net present.
Round trampolines are generally safer than rectangular trampolines, which can provide an extremely high and potentially dangerous bounce.
Make sure to review the safety materials provided with your trampoline. Also, check to make sure that your insurance provider covers trampoline related injuries.
Trampoline Injury Statistics
*Based on a 1999 Report by the US Consumer Product Safety Commission.
Approximately 246,875 medically treated trampoline related injuries occur in the U.S. annually, with 75% of these occurring in children 6-14 and 15% ages 6 and under.
In addition to sprains and broken bones, head and neck injuries can lead to paralysis due to a spinal cord injury or even death. Falls from the trampoline followed by landing on the neck were the most frequent causes of death.
About 4% of all trampoline emergency room treated injuries result in an extended hospital stay.
The most common trampoline injuries:

Legs and feet: 40%
Hands or Arms: 29%
Face, head, or neck: 20%
Trunk or Shoulder: 10%