May 10, 2018
Q&A with Rebecca Webb, PA-C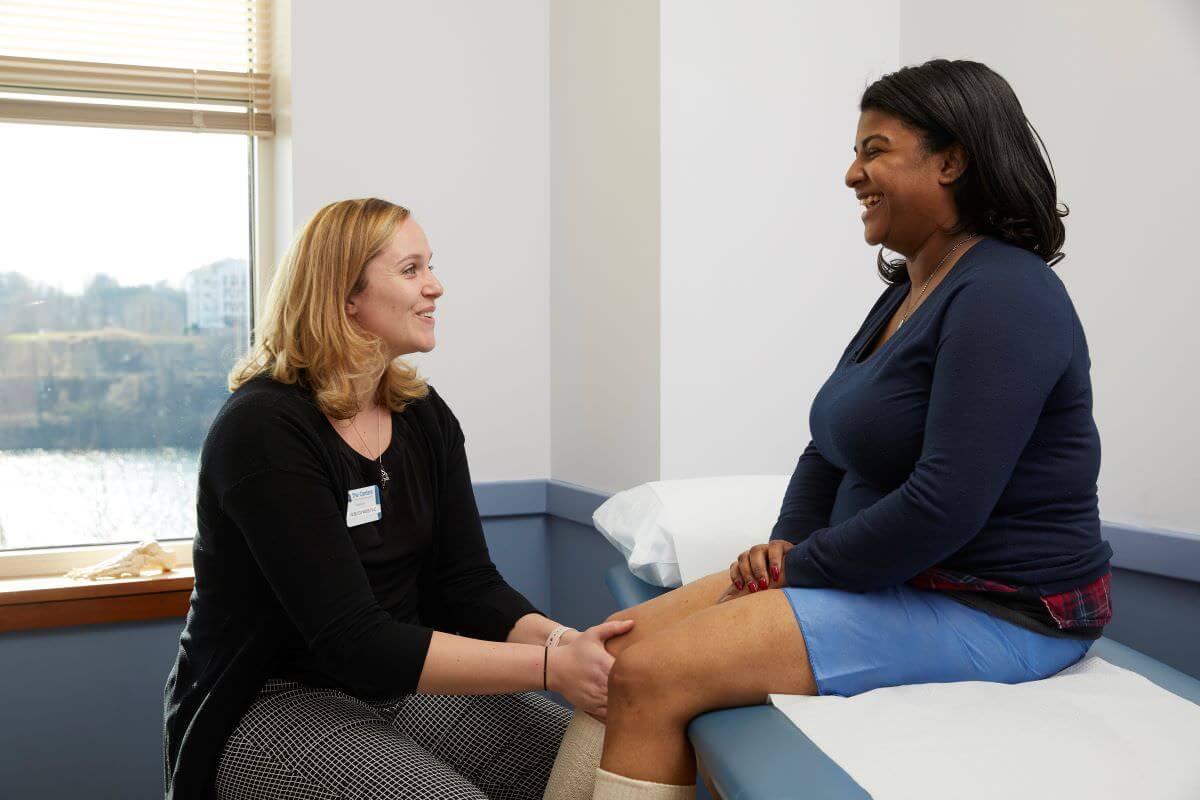 Physician Assistants work in a variety of medical fields. We asked Rebecca Webb, PA-C about her career and what it's like being a PA-C in orthopaedics:
What made you want to be a PA-C? Ever since I can remember, I wanted to be in the medical field. I clearly remember telling my mom at only 5 or 6 years old that I wanted to be a doctor so I could help take care of people. All through middle school and high school I was on track to attend medical school, until I met my first Physician Assistant when I was a sophomore in college. I had just torn my ACL playing collegiate volleyball and was at my second post-operative appointment. In walked in this young woman who told me she was a Physician Assistant who worked with my doctor, and that she was going to be handling my post-operative visit. It was there that I first learned about the PA profession.
How is being a PA-C different than being a Physician? To start, there are different amounts of schooling required for a physician versus a PA-C. To become a Physician or Surgeon requires undergrad, medical school, residency and for some specialties, fellowship training. For example, all of the orthopadiec surgeons at The Centers, OrthoMaryland are subspecialty trained through a fellowship after residency. A PA-C requires an undergrad degree, a Master's degree and possibly a residency based on the specialty chosen. The biggest difference is that once fully certified, a PA-C must work with a supervising physician, while a physician has complete autonomy. Also, a PA-C is able to assist in surgery, but not perform surgery on their own. We can however, perform a variety of procedures on our own, including injections, wound closures, placing chest tubes to help you breathe, placing central lines, and performing lumbar punctures. Even draining abscesses! When all is said and done, a physician assistant is able to do approximately 80% of what a physician can.
What role do you play on the patient's care team? As a physician assistant I play an important part in patient care, from beginning to end. I have patients on my own clinic schedule and am also responsible for seeing patients on my supervising physician's schedule. I perform histories and physical exams, interpret x-rays, make diagnoses, and order medications and testing. I work together with my supervising physicians to ensure our patients receive the best care possible.
What's it like being a PA-C in a center that specializes in orthopedics? As a lifelong athlete, and an admittedly a clumsy one, I often found myself in and out of orthopedic offices due to injury. This early exposure to the field of orthopedics gave me a first-hand look at the types of cases treated by these specialists, and personally showed me the positive impact they could have in providing rehabilitation. I fell in love with the field at a very young age, and kindled a passion that continues to this day. Furthermore, I've found that working in orthopedics is exciting, as you never know what is going to walk through the door. One patient may arrive with a simple broken bone needing just imaging and casting, while another patient is being scheduled for a total knee replacement. No matter the specific injury, we have the chance to see patients get better from start to finish. I enjoy the continuity of care from their first visit to their follow up checks, and beyond.
What is your favorite thing about being a PA-C? I have two! First, I love the fact that I get the chance to improve people's lives every day with such a hands on approach that utilizes all of my training. I am enthusiastic about my career path and I hope to positively influence and inspire a younger generation of orthopedic providers, whether a fellow athlete like myself, a driven pre-professional, or even one of the many young patients I treat on a daily basis. Second, I enjoy the flexibility the field offers. PAs do not have to pick one specialty for the rest of our career; we have the opportunity to experience a variety of fields within medicine, which is very exciting.
What is one thing you want people to know about Physician Assistants? I would like for people to have the understanding that while the PA's role is to assist the physician in a variety of ways, we also have the advanced medical training, knowledge base, and capability to take care of you on our own. And the best part is, if we at all feel an issue is out of our depth, we have an amazing team of physicians that can step in to help us at any time.
Rebecca Webb, PA-C is a Physician Assistant at The Centers for Advanced Orthopaedics, OrthoMaryland Care Center. Rebecca is a member of our Joint Team, working closely with Dr. Peter Jay and Dr. Barry Waldman, treating hip and knee conditions, sports injuries and basic fractures.